Bus Driver of the Year 2023 almost full
The National Final of the UK Bus Driver of the Year Competition takes place in Blackpool on Sunday 3rd September and entries from operators large and small are rolling in so successfully that the competition is approaching maximum capacity.
Nevertheless, with 84 confirmed entries, Competition Secretary Paul Mackay says: "There is still time for any other companies to join in by entering drivers."
Joe Mackie, Chairman of the UK Bus Driver of the Year Association, which organises the competition, said: "The 2023 National Final marks fifty-five years of BDoY which was first run in 1967 as a local contest in Coventry and subsequently grew into a national event."
Last year's overall winner, and Bus Driver of the Year 2022, was Michael Evans from Stagecoach South Wales who was up against 89 other drivers employed by the major bus groups, municipal operators and smaller companies.
"We are", said Mr Mackie, "particularly keen to have more entries from all sectors of the industry as the National Final is a fantastic place for operators of all sizes to showcase their drivers' skills and especially their commitment to excellent customer service."
Bus companies that become involved are also invited to make a bus available for use in the driving tests, while manufacturers and suppliers are welcome to take advantage of the many sponsorship opportunities that are available.
For further information contact paul.mackay@stagecoachbus.com or call 07827 936787.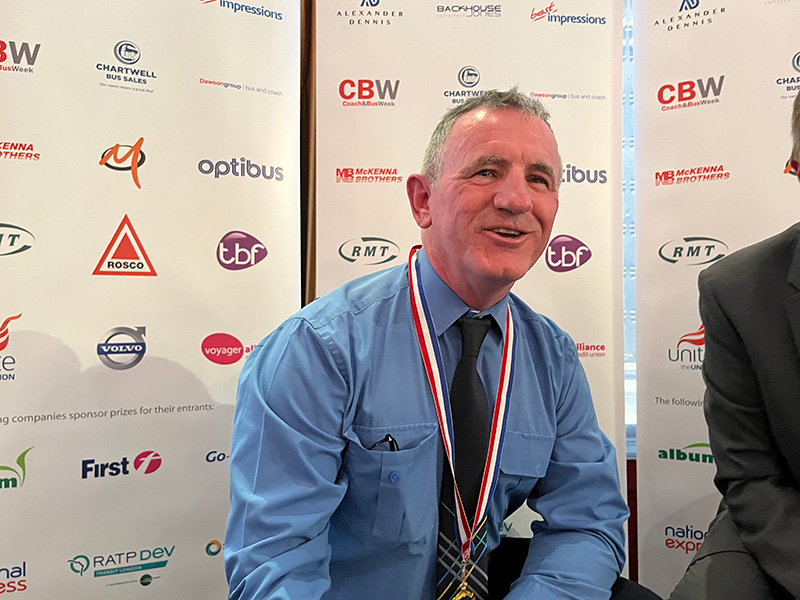 Last year's overall winner Michael Evans from Stagecoach South Wales